Gift cards from the TRU PERFUMES store unlock the scent of your choice. Use our unique perfume gift cards to surprise your loved ones with the ideal fragrance experience. Our gift cards enable customers to discover a world of alluring perfumes because we recognize the importance of a trademark aroma. Send them on a fragrant adventure that matches their sense of style and personality by giving them the gift of individualized luxury. 
TRU PERFUMES store will elevate the art of giving gifts. When attempting to decide on the perfect gift, Tru perfumes' perfume gift cards are a fantastic choice. Your loved ones will have access to a world of priceless scents and perfumes when they use a gift card, giving them a special and customized experience. The recipients can choose their signature perfume or try out new fragrances that go with their personality and sense of style with the gift card in hand.
Why do people prefer Gift Cards?
A chance to giving personalized gifts

The opportunity to provide a personalized gifting experience is one of the key benefits. Let the person choose the perfume that speaks to them most deeply rather than choosing a specific scent for them. Your loved ones will receive a gift they will treasure thanks to this personalized touch, which gives the gift card greater significance.
Perfect for memorable events

Offering someone the gift of choice can relieve you of the stress of selecting the ideal gift and allow them to celebrate important landmarks of their life like birthdays, anniversaries with a smell that will live in their memories forever.
The last-minute gifts' savior

Perfume Gift cards are a fantastic choice for business gifts. These gift cards are a lifesaver, offering a speedy and practical option to make sure your loved ones get the fragrances they like.
Corporate gifting alternative 

By allowing customers, staff, and partners to select the fragrance that most appeals to them, they enable businesses to express their gratitude to them. These gift cards leave a lasting impression and develop business ties with the opulent and chic fragrances from TRU PERFUMES.
Online practicality

Gift cards from TRU PERFUMES allow customers to shop conveniently online. By browsing and choosing their preferred perfumes from the convenience of their homes, recipients can skip the trouble of visiting actual establishments. An easy-to-use online environment offers a smooth and delightful buying experience.
So, if you're looking for the ideal present that will make a big impact the next time, consider a Tru Perfumes gift card because it gives you more options and makes the ideal present. To make you feel and look amazing, our online fragrance store, TRU PERFUMES, has the top scents from across the world as well as luxury and designer names.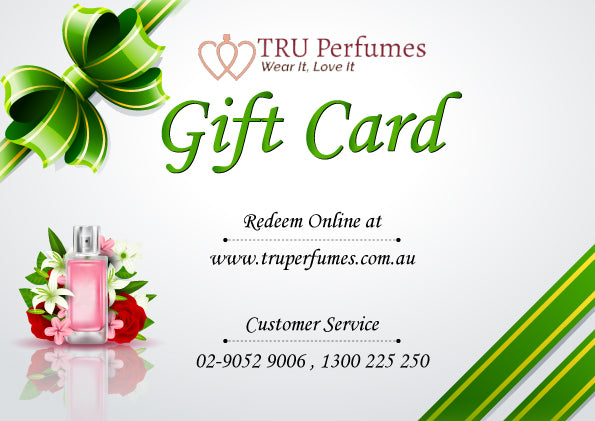 DESCRIPTION
Shopping for someone else but not sure what to give them? Give them the gift of choice with a Tru Perfumes Gift Card.
Gift cards are delivered by email and contain instructions to redeem them at checkout. Our gift cards have no additional processing fees.
Gift Card shopping wishes?  
Shop only at TRU PERFUMES our perfumes online store. Available to make a personalized perfume too if you wish to. 
Concluding note:
Captivate their senses and leave a lasting impression with TRU PERFUMES Store Gift Cards. As the fragrance lingers, so will your thoughtful gesture. Our gift cards speak volumes, allowing recipients to select a fragrance that resonates with them on a deeply personal level.  Make your moments memorable and special with the scents that define individuals and memories. 
Choose from the Store from Niche and Celebrity Brands, and let the beauty of choice perfume the air with elegance and grace. Experience the joy of giving, and let the aroma of gratitude linger long after the occasion. You have Gift sets and home Fragrances all under one roof.
Gift Cards from TRU PERFUMES are a wonderful way to let your loved ones experience the joy of fine perfumes. These gift cards are the perfect present for any occasion because they provide many options, personalization, and convenience. The beauty and attraction of pricey smells can be unlocked with TRU PERFUMES gift cards, whether it's for a birthday, anniversary, holiday, or corporate gifting gesture. 
TRU PERFUMES can be your jewel house for not only good deals and steals but also a place where you can discover a wide array of new and interesting brands. 
Have a look at what personalized fragrances look like with a very personal message for your loved ones with so many samples showcased. Choose an engraved personalized perfume bottle that makes personalized gifts for him or personalized gifts for her just right and apt for the moment. Make the most of your passion for fragrances with TRU PERFUMES.
This is why we make your experience special… Start personalizing your perfume choices from the wide product range of perfumes for men, perfumes for women as well as the best unisex perfumes at great prices. Our online perfume store is a perfume lover's delight for a variety of authentic designer brands, teamed with free fast shipping Australia-wide.